'Phantom voters' disappeared from border villages in the shadow of the war in Ukraine

Several thousands of 'phantom voters' were a no-show at this year's elections in Hungary. The war in Ukraine disrupted established patterns of the otherwise illegal trafficking of groups of voters over the border between the two countries. Figures showing how the population of Hungarian border villages changed over time suggests that even before the war, 'phantom voters' had been disappearing by the thousands.

Curiously, in a voting district inhabited by about a hundred thousand people, Mónika Sápi was the only one who noticed a suspicious van with Ukrainian number plates on this April 3rd. The candidate of the leftist opposition bloc approached the group standing by the vehicle on her own to personally witness a man distribute cash along with voting instructions, Sápi told Átlátszó.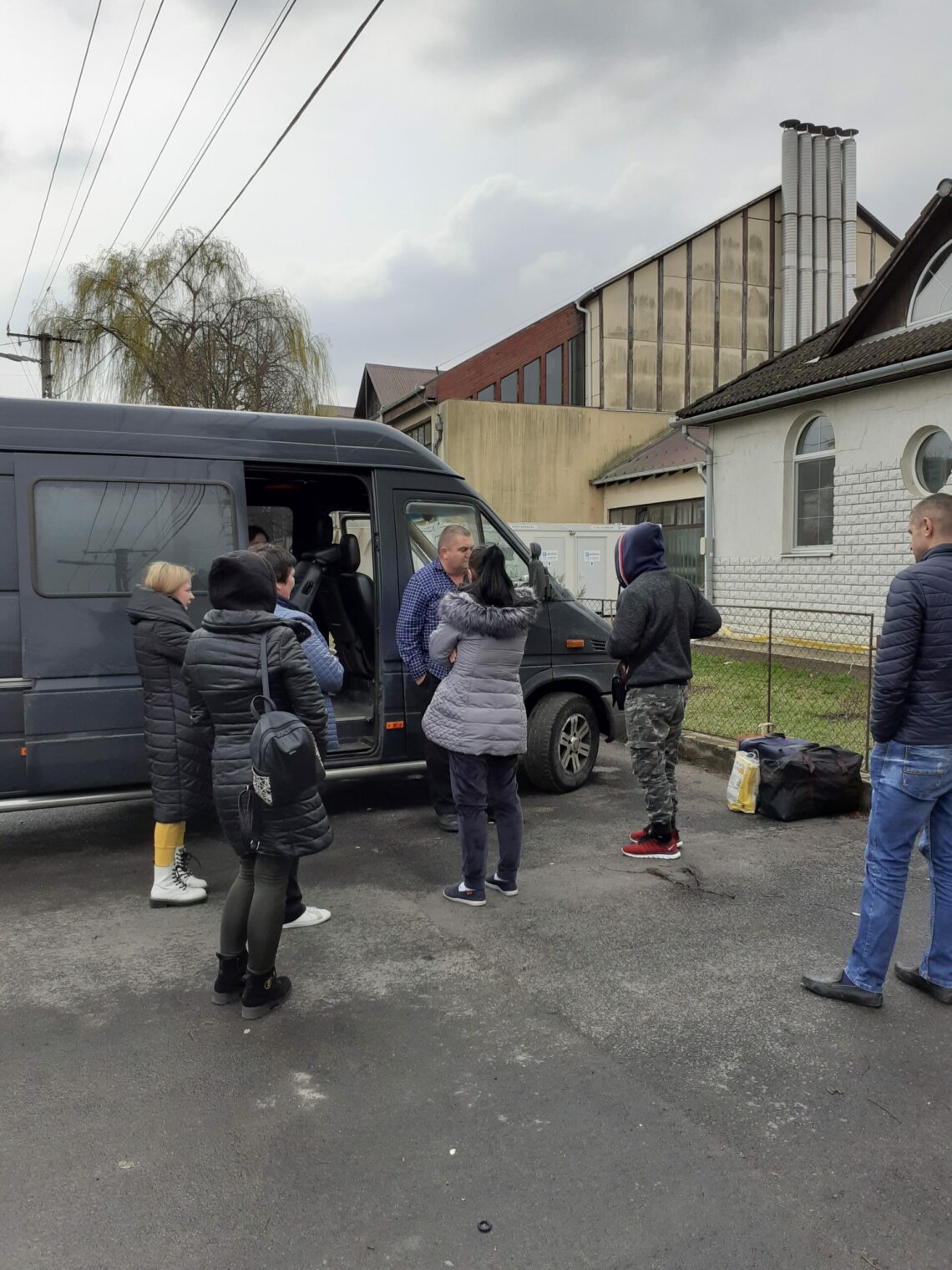 After the candidate appeared on the scene, the leader and his group hopped in their van and effected a hasty escape from Vásárosnamény, Sápi said. This town of 8700 inhabitants is the biggest settlement as well as the administrative center of the voting district in the easternmost corner of Hungary, where Sápi was running for parliament during this year's elections. During the last national and local elections in 2018 and 2019, groups of dual citizens were collected and transported from Ukraine to polling places in this voting district, which is right on the border separating the two countries.
But this election day Sápi's alleged incident was only an outlier, as volunteer polling station officials of the 20k22 initiative, as well as on-the-ground reporters of Átlátszó were looking in vain for signs of the 'phantom voters' appearing en masse once again.
'Phantom voters' and where they are coming from
The 'phantom voter' moniker is a testament to the elusive tactics thousands of Hungarians living in Ukraine employ to game administrative quirks, aiming to milk the benefits of dual citizenship for all it is worth. Their story began in 2010, when Hungarian parliament, controlled by the supermajority of PM Viktor Orbán's Fidesz party enacted a bill that blew the door wide open for millions of Hungarians living in neighbouring countries to attain Hungarian citizenship in addition to their current one. Ukraine's Transcarpathia region is home to 100-150 thousand Hungarians.
Even though Ukraine officially doesn't recognise dual citizenship, this opportunity is especially attractive for people living in Hungary's Eastern neighbour, as it can provide a coveted EU passport. Extra perks, such as access to Hungarian healthcare and social security benefits can also be achieved for dual citizens if they move their residency to Hungary. Because of superior living standards, these perks are especially attractive if compared with those available in Ukraine. And some of these benefits can be quantified if one turns to the black market.
In exchange for a lump sum payment, crossborder criminal networks reportedly would help prospective dual citizens along the process with contacts and know-how, as well as providing them with counterfeit documents that attest to a fake Hungarian ancestry or a made-up working history that would qualify its holder for a higher-tier pension.
Citizenship too easy to get and voter tourism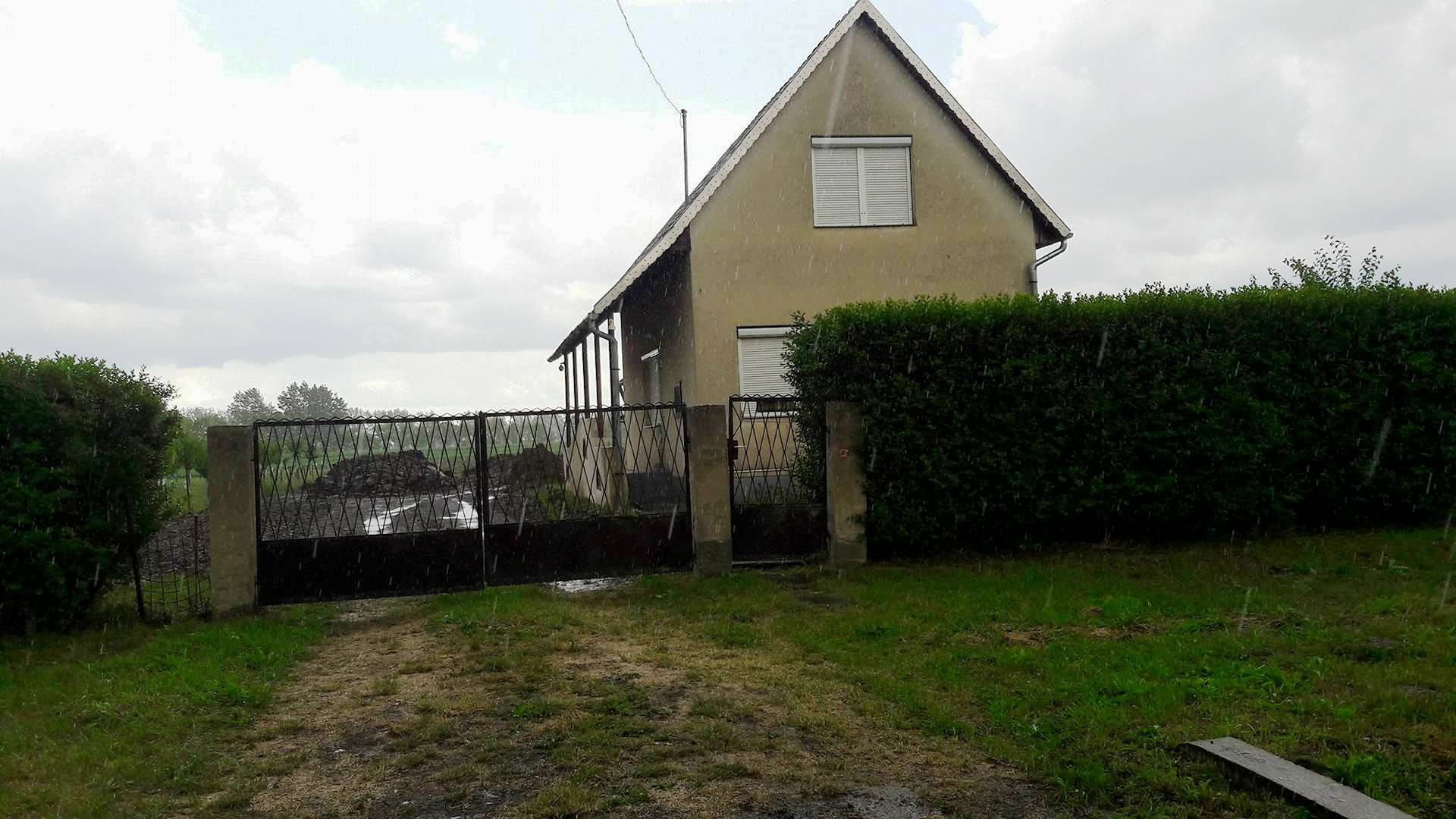 Through these networks dual citizens that didn't not want to move from Ukraine but sought to maximise their profits from Hungarian social security established fictitious residencies in the villages of the Vásárosnamény district and in the wider Szabolcs-Szatmár-Bereg county area. They weren't picky: dozens of fictitous residencies were established in squalid huts or abandoned ruins.
The two-tiered Hungarian election system allows citizens residing in the neighbouring countries only one vote (to be cast by letter, on competing party lists), while allowing citizens living inside Hungary an additional vote to cast: on a representative of the voting district respective of their home address. Fictitious residents of the Vásárosnamény district therefore have two votes to cast if they manage to travel to Hungary. Though data specific to Ukraine isn't available, Hungarian citizens in all neighboring countries overwhelmingly support Orbán.
In 2018 (and later in 2019), the local electorate and opposition politicians of the Vásárosnamény district were surprised to see people they never met before, but now were coming in droves to vote at the local polling places. These were the 'phantom voters', the dual citizens from Ukraine who had fictitious addresses in these border villages and now came to vote on the local representative.
In a highly publicised incident four years ago, a former local mayor helping Fidesz candidate Attila Tilki's campaign was revealed to have transported hundreds of 'phantom voters' over the border with his van. In a later ruling on this case, the Supreme Court found that the organised transport of dual citizen voters along the Ukrainian-Hungarian border was illegal. However, the court's ruling didn't extend to nullifying the results in the district.
An election in the shadow of war
In former years, 'phantom voters' were a highly visible phenomenon. During the local elections of 2019, in the village of Kispalád, actual locals confronted the dual citizens in front of television cameras. The relative lack of such high-profile incidents suggests that 'phantom voters' were a no-show at this year's elections. One obvious reason for that is the war in Ukraine. Military-age men of Transcarpathia can hardly pop over the border now for a ballott.
According to the Hungarian Helsinki Committee, refugees who already fled Transcarpathia are not stopping at the ruins and huts on the border where their official address is registered at, but are traveling further to those places where they actually have jobs, relatives and friends. And this is also what Átlátszó's reporters found out in the district on election day.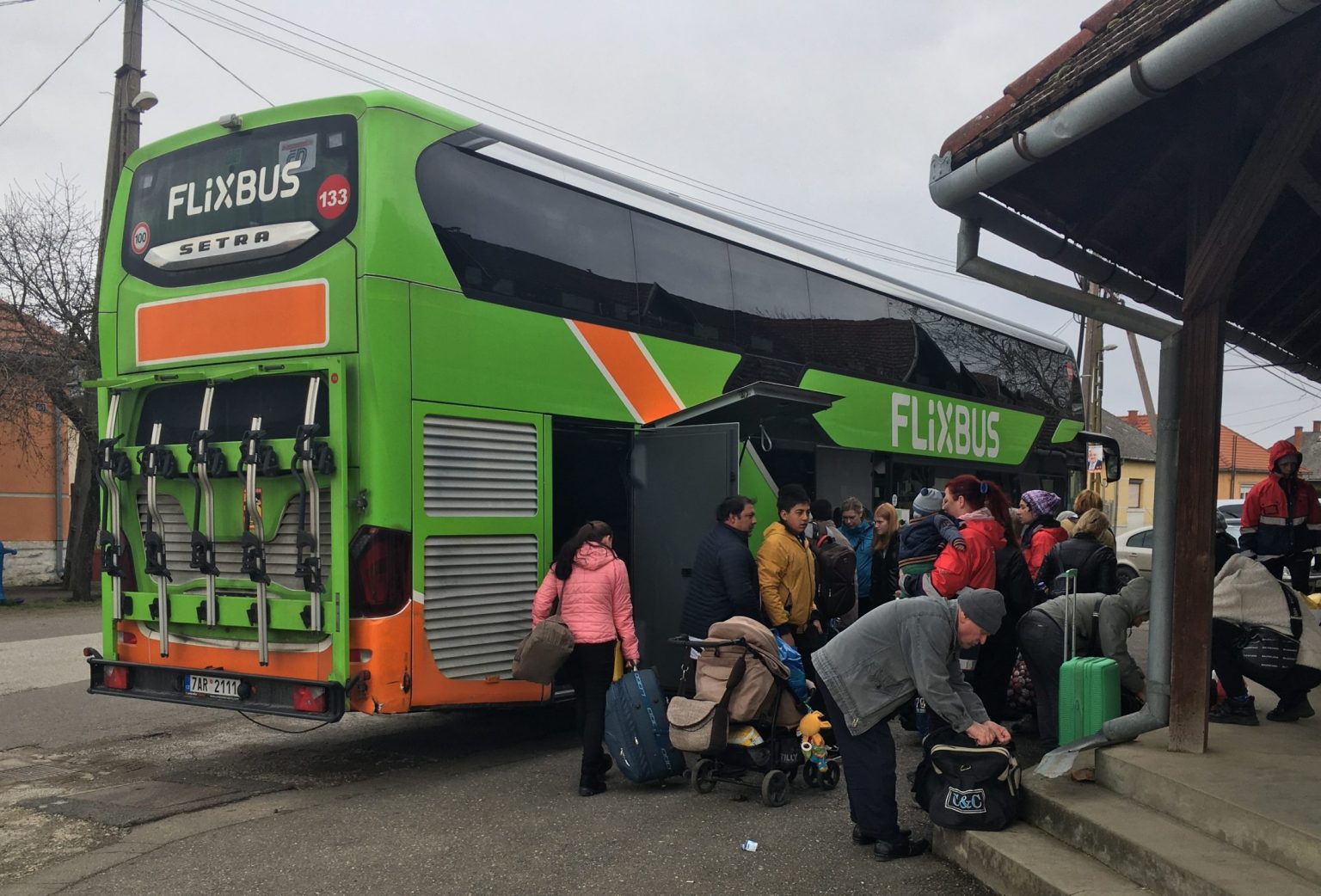 A bus transporting to Budapest was set to leave right when we arrived at the impromptu refugee help center set up in the historic castle garden of Beregsurány, a village right next to the border. According to our information, the target of most refugees passing through here is the capital Budapest or lies even further West. Only a tiny number of refugees were given temporary housing in Szabolcs county, most of them at the temporary shelter in Fehérgyarmat, the second biggest town in the Vásárosnamény district.
But when we arrived in Fehérgyarmat, we found only a dozen or so refugees meandering in the local sports hall, where the shelter was set up. According to our information, not one of them had the right to vote in the Hungarian election.
Following 'phantom voters' through data
In addition, statistics suggest that 'phantom voters' have been disappearing from the county some time now. The trends of fictitious residents and phantom voters can be tracked through figures on the general population and registered voters of the key Vásárosnamény district and its wider Szabolcs-Szatmár-Bereg county area. How many of them were there in 2018?
The geographical distribution of the population changes in Szabolcs county settlements between 2010-2018 is a good point to start. Hungarian population is decreasing every year. The decline falls especially harsh on poorer Eastern Hungary.
Northeastern Szabolcs county should be no exception, sadly, but according to public data provided by the Interior Ministry, the Vásárosnamény district — which is the poorest voting district of Hungary — still posted an irreal growth of 10 percent (or 6426) people. Most of the settlements in the whole of Szabolcs megye that grew in these 8 years are situated near the Eastern border, suggesting that their population is bolstered by fictitious residents from Ukraine.
Though the Vásárosnamény district is the most affected (with an irreal growth of 10 percent), some settlements elsewhere in the county have also registered irreal population booms, such as the village Szamosangyalos, the population of which which grew by 77 percent during these 8 years.
Which suggests that the total 1 percent decline in population that Szabolcs county (excluding the Vásárosnamény district) has registered is somewhat skewed, but by not too much. Using the population data of all other districts in Szabolcs county as basis, Átlátszó's estimate is that in 2018, fictitious residents in the Vásárosnamény district numbered between 7 000 – 11 000.
It is harder to estimate how many of the fictitious residents had a right to vote, and how many of them did actually turn up at the polling places. According to public data provided by the National Elections Office (NVI), between 2014 and 2018, the number of of registered voters in the Vásárosnamény district grew from 73 000 to 77 000. Based upon this, Átlátszó's estimate is that fictitous residents with a right to vote numbered between 5 000 and 7000 in the Vásárosnamény district in 2018.
Counting with the turnout ratings for the whole county, about the two thirds of this number turned up to vote, which brings us to an estimate between 3300 and 4700 for actual 'phantom voters'. This number, which accounts for around 8-12 percent of everyone voting in this district was big enough to potentially affect a close electoral race. However, Attila Tilki won by a very wide margin (59.75-27.29) in 2018.
New winds blowing trans Carpathia
Figures for the 2018-2022 timespan, however, show that these former trends have reversed. Remember, how by 2018 the number of registered voters in the Vásárosnamény district shot up from the 73 000 figure for 2014? This year, it was back again at 73 000. So are 'phantom voters' already gone? Population statistics paint a more complex picture.
In these four years, the population of the Vásárosnamény district declined by 5 729. Other voting districts in the county declined by a total of 13 157, a visibly dynamic loss in just four years. Villages at the Hungarian side of the border with Ukraine still retain some of their miraculous population boom from before 2018, but their numbers are decreasing.
In 2010, only 579 people lived in the village of Kispalád, which registered the biggest relative growth in the whole country: a surreal 124 percent. By 2018, its residents numbered 1296. But the population decline the village has posted since then is also surreal: in four years Kispalád lost 486 residents.
The second on the list is Beregsurány, with a 100 percent relative growth (from 591 to 1184) between 2010 and 2018. The population of this village has declined by 221 in the last four years. We've already mentioned the village of Szamosangyalos, the population of which has grew by 424 between 2010-18. Since then, exactly the half of the former growth has disappeared. At least in one village in Szabolcs county, Cégénydányád, the local notary has struck 20 fictitious addresses from the register last year.
The trend is obvious: population statistics of those settlements that formerly have registered an irreal population boom probably because of fictitious residents started coming back to reality after 2018. Settlements that registered any sort of population growth in the county since 2018 did so to a reasonable extent.
No new masses of fictitious residents
Last November, Hungarian parliament enacted a bill effectively legalizing fictitous residency — citizens are no longer required to actually live at the address they give for the official register. NGOs Hungarian Civic Liberties Union and Political Capital had noted that this change would legalize voter tourism and 'openly endanger the integrity of the elections'.
But in the Vásárosnamény district, the number of registered voters has decreased by falf a percent since January 1st, the date the new changes came into effect. The greatest decrease was registered in the village of Csaholc, which has produced the 11th greatest population growth between 2010-2018. By mid-February, Csaholc had 461 registered voters. Under only a few weeks, this number decreased by a whopping 5 percent, the equivalent of 23 voters. Beregsurány, in the same timeframe, lost 15 voters, or 2.2 percent.
'Phantom voters' a no-show, Fidesz still won
This year's voter turnout figures are suggesting that even those fictitious residents that still have their addresses in Szabolcs county were a no-show for election day, possibly because of the war in Ukraine. The village of Kispalád, for example, registered a 30 percent (or about 100 people) drop in voter turnout compared to 2018.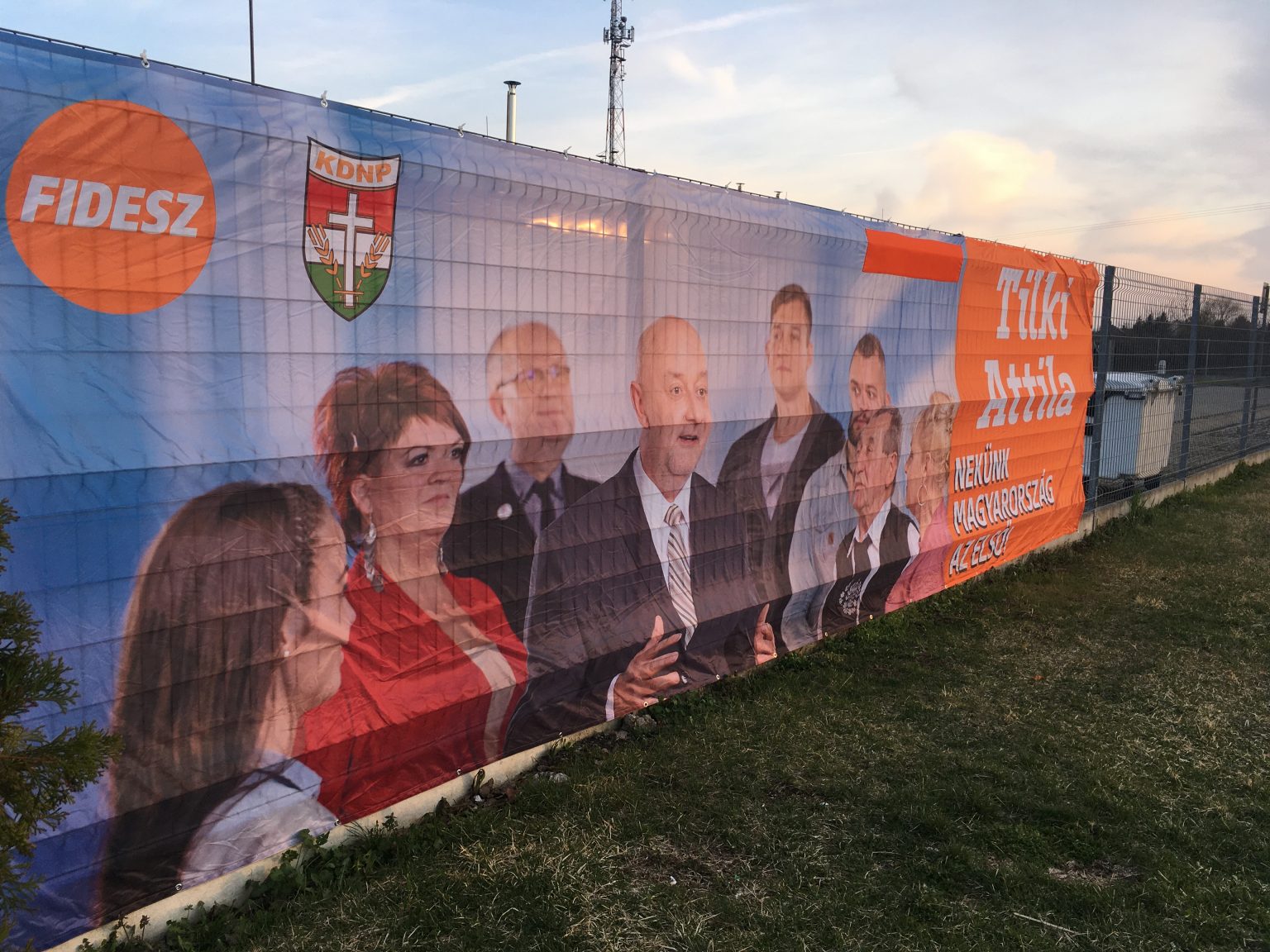 But Fidesz did not lose much with the absence of 'phantom voters' this year. Governing party candidate Attila Tilki won the Vásárosnamény district by an even bigger margin than four years ago. The incumbent received 32 000 votes, whereas only 11 000 citizens voted for his main opponent, Mónika Sápi.
Translation by Márton Sarkadi Nagy. Reporting & Data: Márton Sarkadi Nagy; Data & Visualization: Krisztián Szabó. Original article, in Hungarian, is available here. Additional reporting: Nikolett Dankulinec. Cover photo: Entrance of the Castle Park in Beregsurány, the base of the impromptu refugee center Photo: Márton Sarkadi Nagy / Átlátszó. 
This article is part of our project aiming to monitor the 2022 parliamentary elections in Hungary. The project was funded in part by a grant from Investigative Journalism Europe (IJ4EU) and a grant from the United States Department of State. The opinions, findings and conclusions stated herein are those of the author[s] and do not necessarily reflect those of the funders.